Need help to develop, plan, optimise, and implement your course, launch and services?

While putting the systems in place to support it all!?

Your knowledge, coaching packages, and courses are your tickets to big growth.
You just need someone to get them working like a dream so you can fulfil your vision.
Enter... your Online Business Consultant.
GRAB MY GUIDE TO OUTSOURCING
Meet Kirsten
Your Certified Online Business Consultant
Uplevelling your brand, systems and strategy are what I live for.
As a Certified Online Business Consultant (OBC) and the founder of Busy Made Simple, I'm a growth strategist here to elevate your brand.
I take heart-driven coaches, course creators and high level entrepreneurs from standstill to success.
The kind of success that sees you living your purpose.
Empowering your community.
And unleashing your energy from deep within.
Australian Based Online Business Consultant
Growth Expert, Innovator, & Strategist
System
Implementation Expert
1 on 1 Consultancy, Backed By An Agile Team
I help visionary business owners build stronger, more profitable programs, courses, and memberships by:
  >>  Drawing on my years of expertise to give actionable feedback at program development stage

  >>  Understanding your client's journey to build a program that's accessible and measurably transformative

  >>  Creating and optimising sales pages that have your dream audience converted with ease

  >>  Streamlining payment processes

  >>  Building and maintaining a bespoke online portal that's intuitive to use 

  >>  Implementing feedback and testimonial processes for an exceptional customer experience

Fully aligned, client-centric systems
Your whole business is built around your clients.
That's why everything I do as your Online Business Consultant, is about streamlining and improving your operations for a better human experience that reflects your high-level service.
From mapping your client journeys to optimising with measurable results, your client is always my focus.
I blend personal touch points with native integrations and Zapier. Your high paying clients feel supported by a real person at the other end (hello, OBM) while everything is efficient, integrated and streamlined.
Working closely with you, I develop your very own marketing method that reflects who you are. One that feels right for you and your brand. And most importantly, one you feel comfortable implementing so your clients will get to know who you are – not a hyped up, over exaggerated version of you. So you can magnify your online presence with evergreen and introverted marketing techniques.
Hustle and selling  ➔  more of the stuff you love

Hours of frustrating admin  ➔  creating more time to work on your business

A notebook bursting with ideas  ➔  considered action that brings your ideas alive 

Sluggish programs and subscription silos  ➔  seamless systems that make it easy

Bite sized growth and haphazard tactics  ➔ catapulting forward with strategic steps leaps

Brand building  ➔  brand affinity that attracts and retains your dream clients

Systems overwhelm and tech roadblocks  ➔ harmonious systems taken care of by a responsive team
With The Right Systems In Place, You're Unstoppable
You focus on creating, impacting, and leading while I get your processes, systems and business in alignment with your goals. Once all your systems are integrated and optimised, I oversee my team of VAs, OBMs, and vCIO to manage and support it all.
We're here to help you implement and manage everything with our full, Australian based team, to support you every step of the way.
  >>  You breakthrough, I back you up.
  >>  You scale, I systemise.
  >>  You innovate, I integrate.
  >>  You have the vision, I make it happen.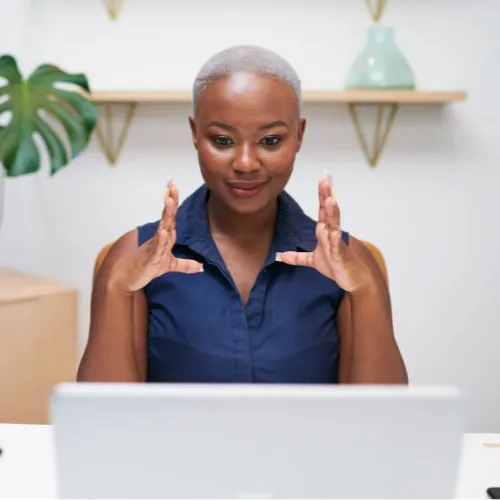 Let's Create Magic Together
Fresh ideas, smart strategy, and systems integration are just the start.
If you're curious about having the ears, eyes, mind - and heart - of a visionary Online Business Consultant in your business, let's create magic together.
BOOK A CONSULT
Kemi Nekvapil
"I needed someone to work with me on all the 'behind the scenes' aspects of my business regarding online program creation, systems and processes. It can be difficult to find someone who has all the technical skills and a high level of service for their clients. Kirsten listens and communicates well, has integrity, and holds you accountable when needed. She is a delight to work with and co-create with, and to be honest, I would not have the online business I have without her and her team."
Tracey Anderson Askew
"Kirsten works from a place of excellence – working together has been a dream. I was too busy working in my business rather than on my business. My systems were old and inefficient. I was frustrated because I had a head full of ideas and I couldn't find the time to help my clients in the way that I wanted to help them. Having Kirsten onboard has been an amazing change to how I do business now.
Kirsten has updated my systems to bring in new platforms that are really efficient which has saved me an incredible amount in administration of my business. She's also updated the procedures for me which means that anybody can walk into my business and know how to help me run it. That has been an incredible level of progress as well. Having her on board has helped me now to implement at least three major initiatives and I'm so proud of it because I've been wanting to do that for a long time."
HOW TO OUTSOURCE TO A VIRTUAL TEAM
Your guide on how to prepare your business to feel confident and secure working with virtual team members.
We acknowledge the Ngunnawal people as the traditional custodians of the ACT and surrounding region, the land where we live and work. We pay respect to elders past, present, and emerging. It always was and always will be, Aboriginal Land.
Diversity fuels innovation. We're dedicated to fostering a culture where everyone's unique race, age, gender, orientation, disability, and experiences are celebrated. In our inclusive environment, all are welcomed and empowered. Your uniqueness is not just accepted, it's the core of our strength and success.